B2 Door
BARAZIN B2 doors collection, is a European design that explores indefinite possibilities offered by a glass door. Glass stands apart from other materials because it's highly versatile from a design standpoint.
Our new innovative design has entered the market. Original, inspiring, stylistic possibilities with swing and sliding glass door. B2 doors collection, feature of emerging new interior design solutions.
Category


Swing Doors
Our swing B2 door is carefully build with a magnetic closing system lock, an innovative and contemporary look that ensures silence and fluidity during door opening and closure. The lock system makes an integral fitting element in harmony with the door.
6 designed handles are available in 4 finishes :
Mat chrome,

Superstainless steel satined,

Chrome,

Biochrome bright
The principal appealing characteristic of our handle selection is total integration between the handle and the glass panel that forms a single endless surface.
Select a Product
Sliding Doors
Already 2 versions of B2 slidding are available:
Come back shortly for technical and pictures or call us for more details.
HUSH (1 glass)
FLOW (2 glass)
Latch options
3 possible options:
PRIVACY - locking door latch is installed inside the door to keep the door secure from unexpected entry.
Typically used for more private areas like bathrooms or bedrooms.
PASSAGE - no locking door latch is installed into the door.
The lever or knob is usually surface mounted and only functions as a door pull/push.
KEYED - a key locking door latch is installed on both side.

ALPHA door
Our doors are characterized by a high quality anodized aluminum profile that shape the perimeter of reflection and the strength of the lacquered colors.
B2 ALPHA is also available with a trim glass version, characterized by a finishing piece of glass in the surround pieces.
Our B2 door ALPHA, is carefully built with a magnetic latch, an innovative and contemporary look that ensures noiselessness and ease during door opening and closure.
You can choose within 6 designed handles in 4 finishes
Handle LINK
Designed by Piero Lissoni in 2006
Available finish:
EL
CO
IS
US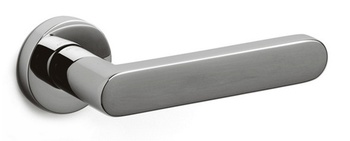 Handle BETA
Designer Joe Colombo
2010
Finish options
Mat chrome,
Superstainless steel satined,
Chrome,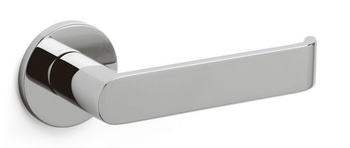 Handle LAMA
Mat Chrome finish illustrated
Designer Gio Ponti
1954
Available finishes
Mat chrome,

Superstainless steel satined,

Chrome,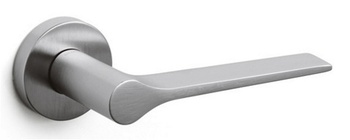 Handle SELENE
Designer Massimo Iosa Ghini
2005
CO illustrated
Available finishes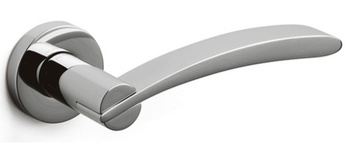 Handle TECNO
Finish IS illustrated
Designer Giorgetto Giugiaro
1999
Available finish:
Mat chrome,

Superstainless steel satined,

Chrome,

Handle FIN
Designed by Toyo Ito in 2009
Available finish:
o Mat chrome,
o Superstainless steel satined,
o Biochrome bright